5 Things You Want to Avoid Doing at Your Job's Holiday Party
5 Things You Want to Avoid Doing at Your Job's Holiday Party
Don't Invite More Than 1 Person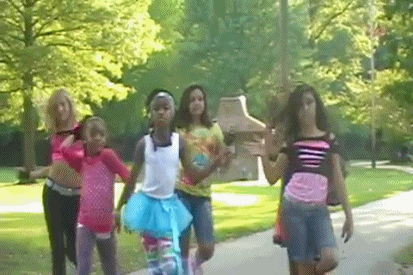 Unless it's an open event for all, avoid bringing your boys or your girls to the event. We understand there may be an open bar and a sizable spread but keep it professional and classy and bring a date. Inviting more than that is definitely one of the things you want to avoid doing at your job's holiday party.  If you don't have a date and want to avoid going stag, take a close friend or family member.  Just make sure it's someone that doesn't mind socializing and won't be uncomfortable when you're busy working the room.
Don't Get Wrapped-up Into Work Gossip
After a few mixed drinks and a cup a wine your co-workers might feel a little relaxed and let your their guard down and start expressing their true feelings about Suzy and her loud cube music, or how Jeremy takes 2 hour lunch breaks.  Even if you agree with their drunk assessment don't get wrapped up in the chatty Kathy drama.  Politely excuse yourself from the conversation and walk away.  The last thing you want is to be labeled a office gossip girl or to be called into HR when your name is wrapped up in all the hearsay.
Don't Dress Like You're Going Clubbing
Another thing you want to avoid doing at your job's holiday party is going overboard with the gear. Yes it's not "work" per se, but it's still work related.  So either keep it business casual or go for the gusto and get suited up.  However, save the mini skirts or your muscle shirts for your weekend romps at your favorite nightclub.  How you present yourself at holiday parties is still being judged by your superiors and could ruin your chances of being asked to accompany the boss for client meetings or business trips.
Don't Hit on Co-Workers
It may feel like a night-off from work but the HR department never closes.  Yes, you had your eye on Jack from accounting or Mary from marketing, but just as with regular work hours keep it professional.  The liquid courage in the form of gin & tonic may have you feeling like you want to confess your undying love but it's important to check your feelings at the door along with your coat.  Not only will you make things awkward at the party you will make the regular work hours uncomfortable and risk being reported.  So keep it professional.
Don't Get Wasted
This is so obvious that we purposely didn't put it at the top of the list.  You don't want to be the guy downing 8 Jack & Cokes then proceeds to do the worm across the whole dance floor with his shirt off.  So it goes without saying, you don't want to make an ass of yourself at the company party.  Not only do you risk being fired, you also damage your chances for raises and future promotions.