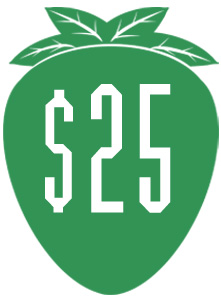 Vegetable Minestrone

Diced Tomatoes, Kidney Beans, Carrots, Onion, Celery,
Zucchini, Squash, and Garlic
Mixed Greens Salad
Spring Mix, Grape Tomatoes, Shaved Carrots,
Cucumbers, Radishes, Citrus Vinaigrette

Penne Santa Rosa
Penne Pasta, Asparagus, Red Peppers, Mushrooms, Bermuda Onions,
Spinach, Tomatoes, Thyme, Goat Cheese, Garlic Olive Oil
Pan Seared Tilapia
White Wine Sauce with Plum Tomatoes, White Beans,
Shallot Mashed Potatoes, Fresh Spinach
Lemon Rosemary Chicken
Char Grilled Chicken Breast marinated in Lemon, Garlic,
Olive Oil, Fresh Rosemary
Mom's Meatloaf
A staple for years, House-made Mashed Potatoes,
Mushroom Gravy, and Broccoli

Strawberry Shortcake
Vanilla Cake, Fresh Strawberries, Whipped Cream

PLEASE NOTE: For Bourbon Blue's Menu you can choose either 2 courses for $25
or 3 courses for $35. Every three course meal will also be served with your choice of:
Strawberry Basil Lemonade, Abita Strawberry Harvest, Ciderboys Strawberry Magic,
Glass of House Pinot Noir or Pinot Grigio.


Iceberg Wedge Salad
A wedge of Iceberg Lettuce topped with
Blue Cheese Dressing,Diced Tomatoes, and Crispy Bacon
Gumbo Ya Ya
A Creole Stew of Chicken, Andouille Sausage, Trinity & Okra, over Dirty Rice

Strawberry Bruschetta
Chopped Strawberries tossed with Goat Cheese, Cracked Pepper, and
Baby Arugula Chiffonade, dressed with Balsamic Reduction

Jambalaya (A New Orleans Staple)
Andouille Sausage, Chicken & Tasso Ham, in a Piquant Stew
of Tomatoes, Trinity and Dirty Rice, topped with Jumbo Shrimp.
Pan Seared Tilapia
Dusted with blackening seasoning and seared, served with Shrimp and Sweet Potato Hash
and Broccoli, topped with Candied Pecans and Vanilla Brown Butter
Blackened Chicken and Shrimp
Topped with a Tropical Strawberry Salsa, served over Sour Cream
Grits and Sautéed Green Beans

Bananas Foster Bread Pudding
French Bread soaked in Dark Rum Custard with Bananas,
slow cooked, served with a Vanilla Bourbon Caramel Sauce.
Strawberry Trio

Strawberry Cream Cheese Tart, Strawberry stuffed with Nutella and
Mascarpone Cheese, and a Strawberry Cake Ball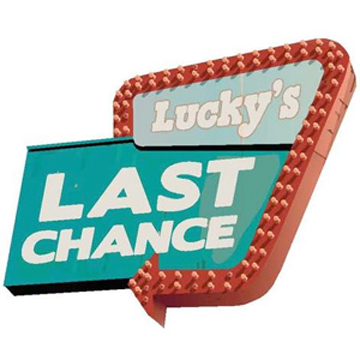 Bacon Tomato Mak & Cheese
Our signature Mac and Cheese with Crumbled Real
Bacon and Diced Ripe Tomato
Sour Cream and Scallion Mak & Cheese
Our signature Mac and Cheese with Fresh Scallions
and Velvety Sour Cream mixed in
Junkyard Tots
Fried Tater Tots tossed in Shredded Cheddar Cheese and Bacon,
topped with Scallions and a touch of Sour Cream

Choose from our 3 Exclusive Restaurant Week Burgers
Caprese Burger
Two 4oz Patties piled with Sliced Tomato, Fresh Buffalo Mozzarella and Fresh Basil,
topped with a Honey Balsamic Reduction. Fresh, delicious, and just in time for spring.
Wakey Wakey Burger
A Single Patty towered high with Porkroll, Scrapple, American Cheese,
and a Fried Egg. It's like breakfast for the person who wants everything.
PB Project #2
Two 4oz Patties with Crispy Bacon, American Cheese, Peanut Butter,
Fluff and Banana on a Butter Toasted Roll.
We blame the Willy Wonka & the Great Space Coaster for this creation.

Deep Fried Pound Cake Wedge
Topped with a Fresh Strawberry Slurry, Powdered Sugar, and a Grand Mariner Whipped Cream


Choose One
Crab and Corn Chowder
With Lump of Crab and Sweet Corn
Spinach Salad
With Sliced Almonds, Strawberries, Red Onion,
Goat Cheese and Blush Wine Viniagrette

BBQ Duck Quesadilla
Duck Confit, Carmelized Onions, Honey BBQ Sauce,
and Grilled Pineapple Salsa

Ahi Tuna Tacos (2)

Sushi Grade Yellowfin, Asian Slaw, Cilantro-Garlic-Lime Aioli,
and Spicy Sesame Broccoi side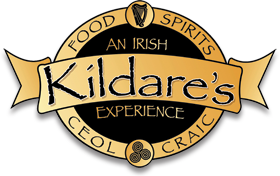 Kale Caesar Salad
Kale, Romaine, Croutons, Parmesan, Minced
Sundried Tomatoes,and Caesar Dressing
Baked Brie
Pastry Crusted, Strawberries, and Aged Balsamic Vinegar
Sundried Tomato and Artichoke Dip
With Toasted Sourdough

Guinness Beef Stew
Meat and Vegetables slowly simmered in a Guinness Sauce
over Mashed Potatoes
Vegetable Pasta
Penne Pasta, Grilled Vegetables, Portabellas, Spinach, Parmesan,
and Sundried Tomato Cream
Belgium Style Mussels
Wit bier, Tomatoes, Leeks and Cream. Served with
Pomme Frittes and Grilled Sourdough

Strawberry Short Cake
Chocolate Molten Cake


Dinner For Two, For Dine In or To Go

Large Salad
Strawberry Fields (Gluten Free)
Toasted Coconut, Toasted Almonds, and Fresh-cut Strawberries
on a bed of Organic Greens with Sweet Poppyseed Dressing
Hail Caesar (Gluten Free without Croutons)
House-made Croutons, Hard Boiled Egg, and Premium Grana Padano
on a bed of Organic Greens with Creamy Caesar Dressing
Holy Chipotle (Gluten Free with an Alternate Dressing)
Corn Tortilla Strips, All-natural and Antibiotic-free House-roasted Chicken,
Raw Red Onion, Sliced Avocado, Black Beans, and Tangy Cilantro on
a bed of Organic Greens with House-made Chipotle Dressing

16″ Pizza or two 10″ Pizzas for an additional $5
Meaty Red Head
All-natural and Antibiotic-free, House-roasted Chicken, House-roasted Turkey Bacon,
Fresh-sliced Tomato, and Garlic Aioli with Premium Grande Mozzarella, topped with
Fresh Parsley on Organic White or Organic Wheat Crust (Gluten Free available in 10″)
Calorie Cruncher
Premium Grande Mozzarella, Antonio's Award-winning Fresh Mozarella, Sharp
Provolone, and Crushed Tomatoes, topped with Tangy Arugula and Garlic on
Organic White or Organic Wheat Crust (Gluten Free available in 10″)
Vegetarian House Special
Balsami-marinated Portabella Mushrooms, Marinated Artichoke Hearts, Organic
Baby Spinach, and Garlic Aioli with Premium Grande Mozzarella and Delicious
Feta Cheese on Organic White or Organic Wheat Crust (Gluten Free available in 10″)

Choice of Two Beverages
House-made Specialties
Organic Black Iced Tea, Fresh Squeezed Lemonade, or mix the two
in a classic "Arnold Palmer"
Premium New Hope Fountain Sodas
Featuring Real Fruit Juice, Cane Sugar, and NO High Fructose
Corn Syrup or Caffeine
Bottles of Water
Our Bottled Water features Two Atoms of Hydrogen for Each
Atom of Oxygen, the Perfect Balance for Hydration


A filling dinner for one, bring your friends and try every option!

Small Plate
Mac n' Cheese
Egg Noodles with Fontina Cheese, Grana Padano, and Smoked
Gouda melted together in gooey deliciousness. And bacon. There's bacon, too.
Pan Fried Artichokes
House-made Grana Padano Crisps, Olive Tapenade, Lemon Aioli, and
Crispy Artichoke Hearts on a bed of Tangy Arugula
Hand Cut Fries
Choice of Regular or Sweet Potato, served with Dipping Sauces

Side Salad
Strawberry Fields (Gluten Free)
Toasted Coconut, Toasted Almonds, and Fresh-cut Strawberries on
a bed of Organic Greens with Sweet Poppyseed Dressing
Caesar (Gluten Free without Croutons)
Grana Padano Crisps, House-made Croutons, and Hard Boiled Egg on
a bed of Organic Greens with Creamy Caesar Dressing
Waldorf (Gluten Free)
Potent Gorgonzola Cheese, Sweet Candied Pecans, Dried Cranberries, and
Fresh-cut Apple slices on a bed of Organic Greens with Sweet Poppyseed Dressing

Pizza

Smokey Bacon (Gluten Free with Grilled Chicken)
All-natural and Antibiotic-free House-made Breaded Chicken, Thick-cut Bacon,
Sliced Grape Tomatoes, and Smokey Paprika Ranch Dressing, topped with Parsley
on Organic White, Organic Wheat, or House-special Gluten Free Crust
Margherita (Gluten Free)
House-made Fire-roasted Tomato Sauce with Sliced Cherry Tomatoes,
Antonio's Award-winning Fresh Mozzarella, and Fresh Basil Leaves on Organic White,
Organic Wheat, or House-special Gluten Free Crust
Florentine (Gluten Free)
Organic Baby Spinach, Cracked Pepper, Premium Grande Mozzarella Cheese,
Fontina and Ricotta Cheeses with Grana Padano and Shaved Lemon Zest
on Organic White, Organic Wheat, or House-special Gluten Free Crust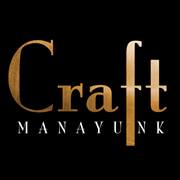 Bruschetta
Sliced Filet Mignon, Marinated Tomatoes, Parmesan, Balsamic Reduction
Calamari
Cherry Peppers, Almond Dusted, Sweet Chilli
Meatballs
Housemade Beef Meatballs, Shaved Machego, Parmesan,
and Marinara and Garlic Crostini

Quinoa
White Quinoa, Feta, Kalamata Olives, Tomatoes, Cucumbers,
Red Onions, Lemon and Olive Oil
Petit Filet
Wrapped in Bacon, Dijon Cream,
Pesto Mash, Asparagus
Tilapia
Sautéed Tilapia, Creamy Roasted Pepper Puree,
Asparagus, Pesto Mash

Strawberry Shortcake 
Lemoncello Mascarpone